The vision for effective treatments…
Through a slight slit in your skin, interventional radiologists give precise, focused treatment to complex and critical diseases and conditions. Interventional Radiology treatments are a well-accepted choice for conditions such as heart stroke, varicose veins, cardiovascular disease, cancer, uterine fibroids, and many other common and serious medical treatments.IR is particularly relevant for patients who are in vulnerable health conditions or who have already undergone numerous surgeries.
What

is


Intervention Radiology?

Interventional Radiology (IR) is the minimally invasive treatment which includes image guiding procedures that once required conservative open surgery. By employing the advancement in imaging technology such as in CAT scans, MRI scans, Ultrasounds and in other innovative methods, IR specialists can see inside your body and treat critical conditions – even cancer and cardiovascular diseases – with less intrusive and with exceptional precision.
The outcome? Interventional Radiology reduces the hospital stay duration, minimize the potential complication and save lives. Today, interventional radiology is an alternate term of modern medicine. IR specialists now are leading in clinical advances and use of the latest image-guided technologies. These are certified physicians who are a connoisseur in both radiology and minimally invasive treatments.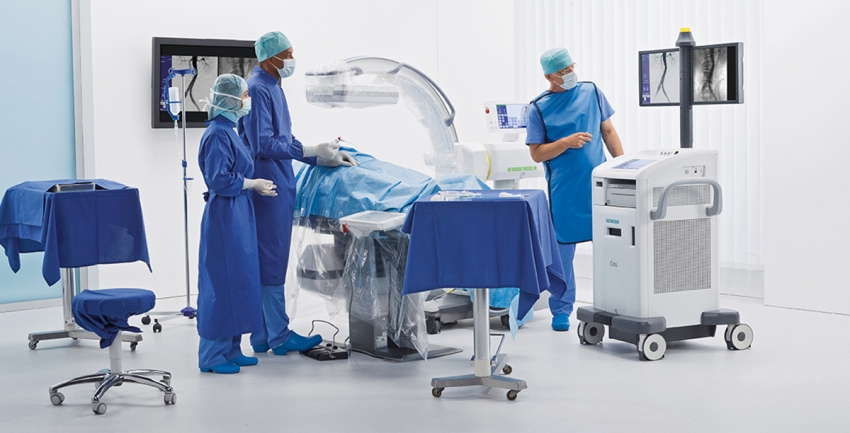 What you can expect from IR?
Interventional Radiology procedures begin with the prick of a needle, then an IR specialist guides a thin wire and a catheter which is of the size of a strand of a noodle through a blood vessel to reach and treat the affected area causing pain. Generally, It is used in treating tumors, organ biopsies, placing stents by using tiny instruments and catheters (thin plastic tubes) into the body via a vein or an artery. These instruments are guided by the images to perform the treatment at the exact area. As a result, this eliminates the need for traditional open surgery and keyhole laparoscopic surgery.
Is Interventional Radiology Safe?
In the last decade, there has been a significant advancement in the use of radiation in the field of medical treatment. In every imaging treatment whether it is X-ray, MRIs, and CAT scans – it is necessary to expose your body to some level of radiation to see inside your body.  Therefore there is a very minute risk in the IR treatment procedure. Every IR specialist is trained to mitigate the risks of radiation and injury by using the proper technique and using the minimum amount of radiation.
Is Interventional Radiology treatment right for you?
Advancement in medical technology treatments especially in imaging techniques has created new treatment choices for the patients.  Therefore, it's compulsory for the patient to know and understand all the options for the treatment of its disease. In many cases, there is a minimally invasive approach that could reduce your pain, risk and recovery time. To know the best treatment, ask your doctor about treatments which are less invasive. And if your doctor gives you the option of open surgery, consult an interventional radiologist for a second opinion. Ask the IR specialist whether you are eligible for minimally invasive treatment or not, about the risks and safety measures.
Interventional Radiologist Skills:
An interventional radiologist should have an expertise and experience in diagnosis through image interpretations. Besides, he should be an expert in tiny needles manipulations, use of fine catheter tubes, and wires to navigate inside the body under the guidance of images.
Advantages of Interventional Radiology:
Well known advantages of Interventional Radiology includes:
Less risk than traditional surgery methods.
Generally, the treatment is of shorter duration.
Reasonable costs.
Greater comfort to the patient.
Get back to work in less time.
Above all, the success rate of these techniques is also much better than traditional treatments.
The scope of IR:
The scope of Interventional Radiology is gradually expanding. Interventional Radiology has done its impact in nearly every field of medical treatment. IR treatments are of shorter duration and as a result, these are emerging as the most preferred options in comparision of traditional surgical methods.