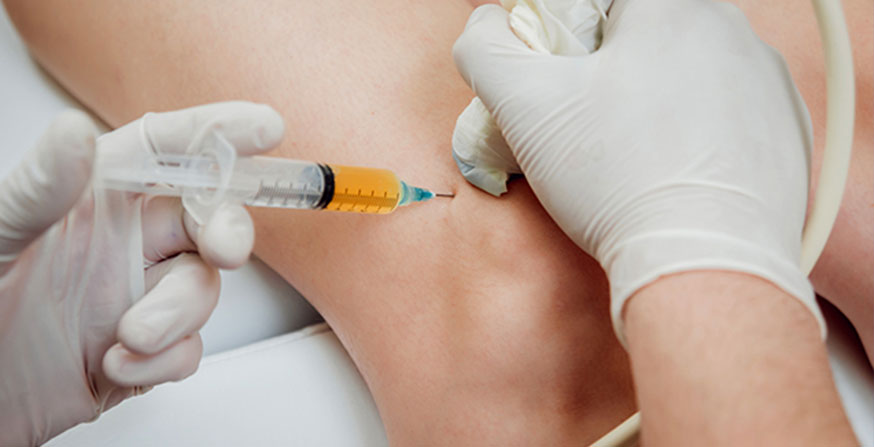 Platelet Rich Plasma (PRP) Injection:
HOW IT WORKS
Platelet Rich Plasma(PRP) treatment is a great treatment that serves to alleviate pain and promote up the restorative method. Since PRP uses your personal tissue to help in healing, there will not be complexities arising from immunoglobulins responding.
PRP seems to be helpful in the musculoskeletal method of the body in areas such as the spine, shoulders, knee, and hip. It is a non-surgical procedure that provides a much weaker risk than traditional surgery.
In modern years, doctors have discovered that the body has the capacity to repair itself. Platelet-rich plasma treatment is a kind of regenerative medication which the surgeon injects taking the plasma of your own blood that can provide those skills and increase the general growth constituents your body uses to repair tissue.
How does the injection work?
Platelet-rich plasma (PRP) therapy uses injections of a combination of a patient's own platelets to stimulate the recovery of injured tendons, ligaments, muscles and joints. In this process, PRP injections use each individual patient's own recovery method to develop musculoskeletal problems. The injection aids in treatment for blood to heal injured joints, tendons, or soft tissue.
PRP injections are of your own blood which has gone centrifugal process through several devices to collect the platelets. These stimulated platelets are later injected straight into you're damaged or infected body tissue. This delivers growth agents that spur and expand the number of repairing cells your body generates.
How can it be beneficial?
PRP therapy is for all individuals. Although it is essentially a method for musculoskeletal difficulties, it is for people with all kinds of obstacles like skin problems and even wrinkling.
As contrasted to another form of therapy, PRP treatment has very few indirect consequences. Usually, the area undergoes the therapy is very red and swell up. There are no severe side effects as it is a non-surgical method and also because one's own cell is used. PRP therapy is a method that is deserving of trying before settling on an operation. Maximum cases improve after several rounds of PRP therapy with consistent outcomes.
Many appointments are not essential for PRP therapy. Usually, three injections will be delivered within a span of half a year and that is all that's required. Sufferers frequently obtain satisfaction after only two injections at intervals of three weeks. This will decrease any stress for difficult situations to follow-up appointments to your physician.
Normally it only takes hardly one or two hours for the entire method to complete. It gets complete in a low-risk situation that does not need any downtime, suggesting that you can visit your doctor during your lunchtime and go back to work shortly after therapy. It does not need long clinic visits or even unconsciousness.
PRP Therapy use plasma from your blood to heal injured joints, tendons, or soft tissue.
If you are suffering from acute or chronic joint pain, tendon or soft tissue injuries, consider this option as it gives healing in a natural way.
Seeking help? Get the best consultation with Dr. Rajendra Bansal Interventional Radiologist at Flowcare Intervention and Pain Clinic in Jaipur.